If you are entertaining the idea of relocating, purchasing a second home or beach getaway along the Silver Coast of Brunswick County, North Carolina, you'll want to add Sea Trail Plantation to your community shortlist. While the laid-back and active beach lifestyle offered by Sea Trail Plantation and the quaint seaside town of Sunset Beach may not be for everyone, it aptly satisfies the needs of our beach loving clients. Beyond terrific golf courses and resort-like amenities are several compelling reasons to call Sea Trail Plantation home.
Superior Location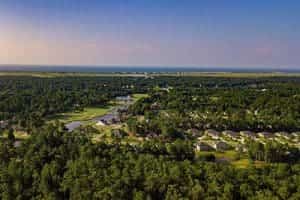 Simply, it just doesn't get any better! Situated just "off-island", Sea Trail Plantation lies at the base of the Mannon C. Gore Bridge and the community is regarded as the gateway to the beach. The serpentine bridge descends from the treetops tethering the island to the mainland. Sea Trail Plantation residents are as close as half a mile from the soothing waters of the Atlantic Ocean. A moderate bike ride, short golf cart excursion or quick trip by car make it a desirable location for those that enjoy the beach.
The nearby Sunset Beach Waterfront Park, also located at the base of the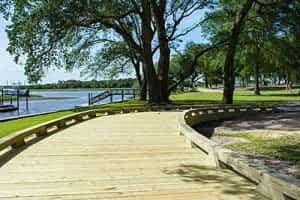 bridge, provides additional benefits including a boat and kayak launch areas, convenient restaurants and quaint shops. The Park delivers a venue to enjoy the dazzling natural amenities of coastal North Carolina, including fishing piers, walking trails, waterfront benches, as well as the venue for the popular farmer's market. Watch the boats pass, fish for flounder or meet friends for a waterfront picnic lunch in this desirable town amenity.
Convenience is central to Sea Trail's continued growth and longstanding success over the last 25 years. In addition to unmatched beach and water access, residents enjoy close access to everyday needs. Healthcare, pharmacies, professional services, restaurants, shopping, groceries, and entertainment are all within a five-minute drive from anywhere in the community.
Sea Trail Plantation offers arguably the best location of any master-planned community in southeastern North Carolina. Coupled with the commitment by the town of Sunset Beach to preserving the laidback coastal character, its and easy place to fall in love with Sea Trail.
Alluring Aesthetics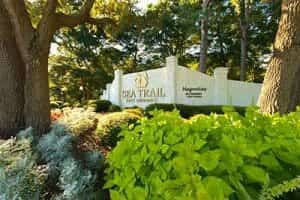 Fundamental to the success of any community is the setting and whether it appeals to would-be residents. The appeal of Sea Trail Plantation is immediate, and first impressions are indelible. The four attractive entrances are dominated by ancient Live Oak trees adorned with Spanish Moss and giving way to brilliant green fairways that extend into the horizon.
At its core, Sea Trail's inherent appeal stems from its synthesis of the natural surroundings, golf courses and homes. The community differentiates itself from others by its rolling topography and towering shade trees. The tree lined streets, manicured fairways and beautifully landscaped common areas reflect the commitment by the homeowners and developer in preserving the character and beauty of this unique maritime forest.
Welcoming Residents
Families relocate here for the low taxes, great beaches, and mild weather. They they stay because of the great people that live here.
Common to many people that choose to purchase in a residential community is the desire to satisfy the innate need to socialize and create and nurture relationships with others. The flow of residents into Sea Trail doesn't originate from one geographic location but is drawn from across the country. Without any existing ties to the area, residents are naturally more open to meeting people. The myriad of clubs and organizations offer the perfect opportunity to interact and engage with neighbors and like-minded people. As many residents are retired or on vacation, expect a barrage of warm greetings and waving neighbors as you drive or walk within Sea Trail.
Undoubtedly, the weather is a big factor on resident attitudes. The mild winters translate into year-round outdoor activities allowing Carolinians to be more active, healthier and ultimately happier. A cheery outlook is radiated throughout the community through positive interactions and welcoming smiles.
Abundant Wildlife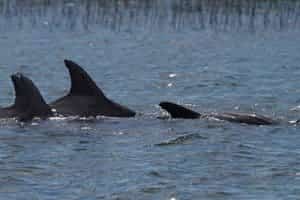 A casual stroll through the community will reveal the diverse coastal ecosystem teeming with wildlife. For those individuals that enjoy observing the natural world, Sea Trail offers daily enjoyment and inspiring observations.
More than 200 bird varieties pass through or call Sunset Beach home. Directly to the south of Sunset Beach is Bird Island Reserve, which as the name suggests is a bird and sea turtle sanctuary and part of the North Carolina Birding Trail. In fact, Sea Trail Plantation reflects the numerous bird varieties with its street names, including Egret Drive, Avian Drive, Osprey Court, Heron Court, and Blue Heron Court. It is common to witness a group or golfers squinting into the blue Carolina sky entertained by a majestic Bald Eagle, fishing Osprey or soaring Redtail Hawk.
In addition to our avian friends, southeastern North Carolina boasts rich fisheries with abundant fishing opportunities both near shore and offshore. Popular species include Flounder, Spotted Seatrout, Red Drum (Redfish), Black Sea Bass, Bluefish, King Mackerel, Pompano, Spanish Mackerel and many more.
Seafood is a way of life on the Carolina coast and just outside the gates are seafood markets and restaurants. Recognized for their delicious local caught shrimp and oysters, both can be purchased at numerous waterfront locations.
The abundant ponds and small lakes are home to a host of amphibians and reptiles including turtles, alligators, snakes, lizards and a myriad of frog and toad species.
A popular volunteer opportunity among Sunset Beach residents is the Sunset Beach Turtle Watch, which offers locals the opportunity to be a part of an enthusiastic group charged with preserving and protecting the endangered sea turtle populations that nest on the Carolina coast each year.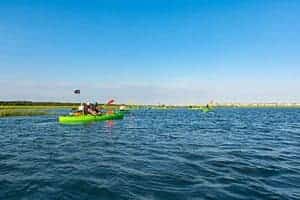 For water enthusiasts, the salt marsh situated between the mainland and the island of Sunset Beach offers a network of creeks and channels. The waterways offer ideal locations for kayaking, paddleboarding and boating excursions. Explore Jinks Creek out to Tubbs inlet, which is the ingress to the open ocean located between Sunset Beach and Ocean isle Beach. Visitors will encounter parades of shore birds, dolphin pods, armies of crabs and native saltwater fish species. Rent a kayak or take a guided tour with Summertide Adventure Tours, a local outfitter and kayak guide company. Explore the backwater areas of the beach and Intracoastal Waterway.
Diverse Home Styles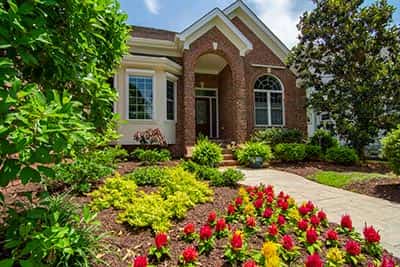 A feature that our clients notice while driving through Sea Trail Plantation is the diversity of the homes. From Mediterranean to coastal craftsman, Sea Trail reflects the diversity of its residents through its homes. The development model used by Sea Trail Plantation is very flexible. Property owners are permitted to build whenever they are ready and can build with any qualified contractor. The home design is at the owner discretion, but must fall within the broad parameters of the architectural reivew board guidelines. The diversity this flexibilty creates produces an appealing and dynamic setting.
The staggered building time of homes in the community aesthetically benefits neighborhoods as they don't all reflect the architectural style of a given period. By introducing homes at different points it helps maintain values and appeal within neighborhoods. The cookie cutter communities that are popular among the production builders offer lower cost but are at the expense of long-term value caused by the repetitiveness of the home designs.
If you are planning on being in the area, please contact Silver Coast Properties to arrange for a private tour of the communities and amenities. We can help you preview any available pre-owned homes or building lots and assist you with coordinating new home construction.
In addition to helping families with their real estate needs in Sea Trail Plantation we can help you anywhere in southeastern North Carolina. Our office specializes in active communities from Wilmington to Myrtle Beach.
Please call us at (800) 975-6024 to schedule a community tour with one of our experienced agents and receive our community map.