Sea Trail Plantation
#1 Selling Golf & Beach Community in Sunset Beach
Start Your Real Estate Search
153 Clubhouse Road
List Price: $625,000
Bedrooms: 3
Baths: 3
Setting: Golf Front
Approx. Sq/ft: 2,100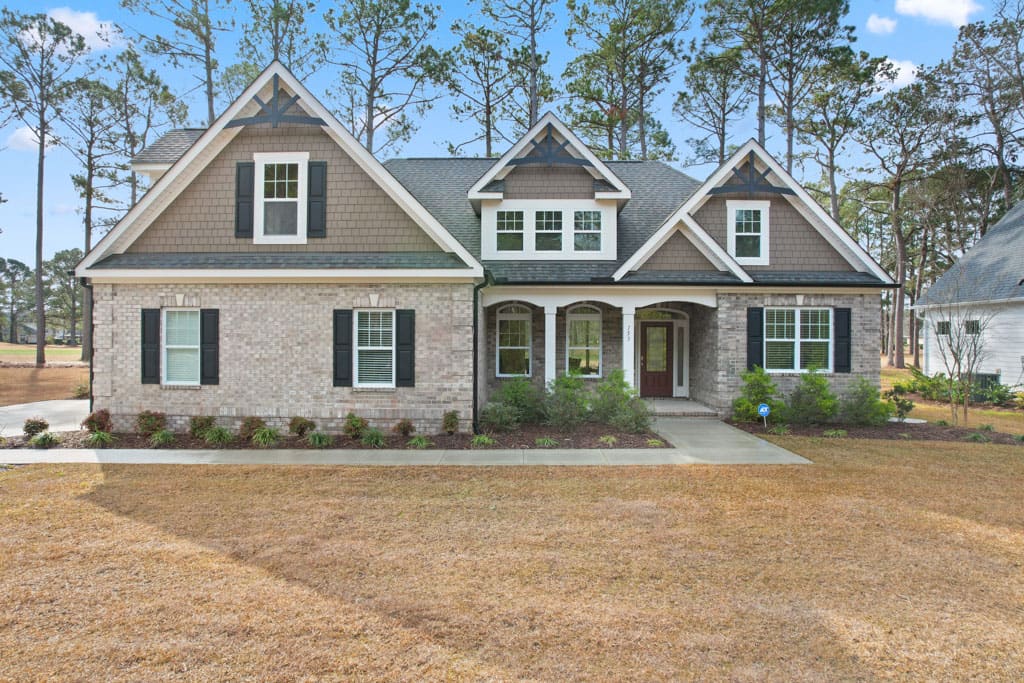 Sea Trail Plantation Real Estate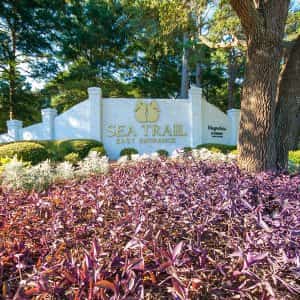 Ideally situated along the pristine coast of Sunset Beach, North Carolina, Sea Trail Plantation has been captivating families and visitors for more than 30 years. With a myriad of real estate options including homes for sale, condominiums, townhouses and lots, Sea Trail Plantation attracts both the full-time residents and those seeking a weekend getaway.
Few master-planned neighborhoods offer the location, quality resources, resort-like amenities and aesthetic character that Sea Trail Plantation aptly delivers.
With three award-winning championship golf courses, it is not surprising that Sea Trail Plantation draws those individuals that put a priority on quality and diverse golf play. All three 18-hole golf courses were designed by top golf course design professionals with regional and national acclaim, including Willard Byrd, Rees Jones and Dan Maples.  These course designers and their golf courses are some of the most highly regarded courses in southeastern North Carolina.
Sea Trail Plantation is not centered exclusively around a golf lifestyle. Many residents are attracted to Sea Trail Plantation because of close proximity to Sunset Beach, arguably one of North Carolina's top barrier island beaches. The white-sugar sands and uncrowded atmosphere of Sunset Beach, coupled with Sea Trail Plantation's resort-like amenities, appeal to a broad range of interests including those that are drawn to the coast.
The real estate opportunities are just as attractive. Now is a great time to get involved in one of southeastern North Carolina's top golf and beach communities.
Silver Coast Properties welcomes the opportunity to assist you with your Sunset Beach and Sea Trail Plantation real estate search or selling your home. Please call us at 800.975.6024 to discuss how we can assist you.
REQUEST MORE INFORMATION
Request more information about Sea Trail Plantation by completing our online form.
Schedule A Community Tour
Spend some time with us as we present our beautiful town and wonderful beach community.
Living in Sea Trail Plantation
Sea Trail Plantation attracts residents from all walks of life for three main reasons: the beautiful, convenient location, the resort-style amenities, and the ample attractions located within the community and surrounding towns. From the moment you enter Sea Trail Plantation, you're sure to feel right at home. Sea Trail Plantation real estate options are flexible enough to meet the needs of any family, including homes for sale and condos for sale, as well fresh lots waiting for you to build your dream home.
Start your Sea Trail Plantation real estate search today!
The Location
Sea Trail Plantation is located in Sunset Beach, North Carolina, just a short 10 minute drive from the South Carolina border. Residents are approximately 10 minutes from the beach, and even closer to the Intracoastal Waterway, making Sea Trail Plantation a great choice for anyone who loves the sand and water. For those that own a boat, there are several places to store and launch your watercraft around Sea Trail Plantation.
The Amenities
One of the biggest perks of living in Sea Trail Plantation is gaining access to the wonderful resort-like amenities offered to residents. Those that enjoy living an active lifestyle will feel like a kid in a candy shop, as Sea Trail is home to a swim & fitness center, exercise classes, tennis courts, an outdoor gardening center, and so much more. And of course, the three 18-hole golf courses, driving range, and two putting greens make Sea Trail Plantation the perfect choice for any golfer.
The Attractions
Being just 10 minutes from the beach or Intracoastal Waterway, the main attraction of Sea Trail Plantation is certainly the water itself. Whether you're a beach bum looking to soak up as much sun as you can, or an angler looking to get out early and catch some dinner, you'll be right at home in Sea Trail.
Outside of Sunset Beach, Sea Trail Plantation is close to several other towns and cities, each offering a unique feel and their own attractions. To the north you'll find Shallotte, a small town with all kinds of shopping and restaurants, as well as Wilmington, a bustling city with ample shopping, restaurants, attractions, and three different beaches. To the south you'll find Calabash, home to the world famous Calabash Style Seafood, as well as Myrtle Beach.
Coastal Community Search
Research & Request Information from 
Coastal
North Carolina's Top Communities

Specially Priced Accommodatons
Take advantage of specially priced accommodations when you work with Silver Coast Properties. Accommodations starting at just $99 per couple*.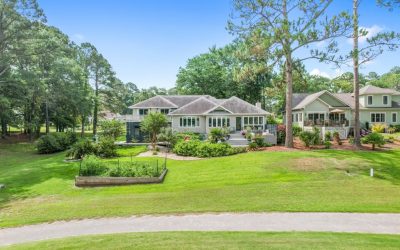 List Price: $625,000Bedrooms: 3Baths: 2.5Built: 2019Approx. Sq/ft: 2,915Setting: Golf CourseAcres: .42 Acre Welcome to 627 Kings Trail in the active, amenity-rich...
read more
Sea Trail Plantation Real Estate FAQs
How much do homes for sale cost in Sea Trail Plantation?
 Single family homes for sale in Sea Trail Plantation start in the mid $400s and range in price up to the mid $700s. The affordability of Sea Trail Plantation and convenient location make it an attractive option for beach getaways, single family homes and vacation homes.
What are the Sea Trail Plantation real estate options?
How big is Sea Trail Plantation?
Sea Trail Plantation sits on approximately 2,000 acres of land in Sunset Beach, North Carolina, and there are approximately 2,000 single family and multi-family homes.
How far is the closest beach from Sea Trail Plantation?
The closest beach to Sea Trail Plantation is Sunset Beach, which is about ½ mile away and about 3 minutes by car.
What amenities are offered in Sea Trail Plantation?
Sea Trail Plantation offers resort-style amenities for residents to enjoy, including two clubhouses, three outdoor pools, indoor pool, fitness center, private beach parking, tennis and pickleball courts, clubs and organizations, and so much more.
Can I tour Sea Trail Plantation and Sunset Beach to get to know the community and surrounding area?
Absolutely! We'd love to show you around the area and take you through the Sea Trail Plantation community. Visit our Plan Your Visit page to reserve your $99 Discovery Package* today!
Is Sea Trail Plantation a golf community?
Sea Trail Plantation is a great place to live if you love the game of golf! With three 18-hole golf courses to explore, you'll never get tired of playing in your own backyard. Sea Trail Plantation's golf courses have been recognized by industry leaders and publications for their excellent design and playability.
Can I use a golf cart in Sea Trail Plantation?
Golf carts are permitted in Sea Trail Plantation. The carts must be registered and street legal as the roads are public. You can take a golf cart from the community to the beach.